Reg.Office Address:
W Sutherland riba rias
Chartered Architect
WS Architecture Ltd
Rydal Road
Ambleside
LA22 9BA

Co. No. 4678713


Tel 015394 34489


For location plan
see Local Links

Practice Profile... (superseded - see new site )

---
An Architect in Ambleside with my own practice for over 20 years I work predominantly within the Lake District National Park remodelling old buildings and creating new designs informed by the local vernacular and craft traditions.



Practice Workload ...
A brief overview of the type of work I do...
---
My client base extends far beyond the locality as this area of outstanding natural beauty attracts people from all over the World to buy property.
Most of my projects are within 10 miles of Ambleside.
Generally in and around Ambleside, Grasmere, Coniston, Hawkshead and Windermere. Mostly alterations and extensions to residential properties - often cottages or barn conversions - and occasionally new houses.

Over many years I have developed the use of technology to improve clients' involvement in designing their homes.
This approach is so popular with clients, allowing them to view, walk around and change their building design in advance of construction, that I use it on all projects; everything from a modest house extension for a local family to perhaps a complete home redesign for one of our more famous residents.


William Sutherland
WS Architecture Ltd
December 2014



---
...some current work on the virtual drawing board...

...ongoing house extension & remodelling - model rendering
...housing for local people (rendered model in site image)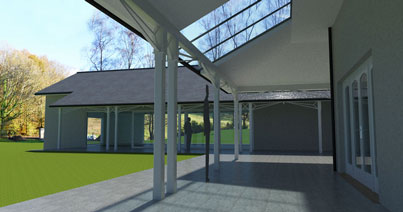 ...sketch scheme for house verandah and pool

Architecture Ltd