William Sutherland

Architect


Click Here
to Return to
Allplan FT
Users Page 1

Office Address Cluan
Rydal Road
Ambleside
LA22 9BA

015394 34489

For location plan
see Local Links



Allplan FT user pages






please email any comments
or corrections


<< Click for larger version (92kb)
---
Please Note - Allplan and Cinema Pages are now obsolete

Allplan - 5 years since my last post on Allplan news.
I still occasionally use Allplan 2011 to access old projects and I will leave up the Allplan pages on this website for as long as they might be helpful but I am not upgrading beyond Allplan 2011.
Nice to see that Nemetschek are still developing Allplan.


Allplan 2011 - I notice that the FAQ on graphics cards tested with Allplan mentions Allplan 2011 but not Allplan 2010, thus I am guessing that Nemetschek are following the Autodesk naming style for the year after release but I have not seen anything official yet about a new version.

In fact I have just received a DVD by post with update 2 for Allplan 2009.


Allplan 2009 - Allplan 2009 just arrived - thankfully, unlike Autodesk which now wants you to download your new product versions in the UK, Nemetschek still send out nice big boxes with a proper paper 'what's new' manual and dvd disks.

Just skimming through the 'what's new' I like the sound of the new construction phasing feature - assigning attributes to construction as existing/demolished/new. This has been one of the most useful features of Revit (not sure if you can do this in Archicad yet?).

The Properties dialogue which appeared in Allplan 2008 (but did not seem to do much) has, as perhaps expected, been expanded in functionality which looks promising.

Unfortunately I am away for the half-term holiday now and so installation and 'playing about' will have to wait a week.



Allplan 2008 - Some nice improvements to the interface are the most obvious changes. It is now much easier to find the tool you want without dragging them on to a custom palette.
There is a lot of information on Allplan 2008 on the official site.

Nemetschek are very keen to include the 'BIM' acronym in anything related to Allplan 2008 (I had always thought that Allplan was one of the few genuine 'BIM's around, but seemingly only v2008 is officially 'BIM' ;-)

A service release for Allplan 2008 is now on the download page of the Services section of the revamped Nemetschek sites.

Apparently data exchange with Cinema 4D r10.5 is much improved in Allplan 2008 but I have not tried this yet.

A new smart cursor which tells you what is under the cross-hairs is proving very useful in the animation window if you make it 'live' for editing by clicking the double headed, curved arrow button at the bottom of the window.
This cursor also does pre-highlighting which I do not think is in previous versions.

A small thing but I also quite like the way they have split the measure tool, and being able to put symbols on the end of lines, including leader lines is now possible.

There are new grab handles on objects when clicked and they seem to be quite powerful, inasmuch as you can drag lines and elements around, but I have not quite got the hang of this yet...

One small problem I am having is with the latest 8.44 driver for Ati FireGL V5600 graphics cards and Allplan 2008. The previous driver worked OK, and the latest driver works fine with Allplan 2006 (I still use Windows XP Pro). This may be Vista related but no doubt will be fixed in due course.

And just a word about UK distributor CADserve - their technical support has been very helpful in answering my pedantic queries on the new software, and I see their website has been revamped in line with the new Nemetschek branding.



Allplan service release 2006.2_3 - While a bit more information on the German version of Allplan 2008 is drifting around the internet, nice to see that Nemetschek continue with service releases for 2006.
Download from usual Nemetschek sites - Downloads link via 'Service' on left of screen with 'Info' on what changes are being made, or direct link here.

Allplan 2008 - Information and Videos (in German) of highlights of forthcoming Allplan 2008

Cinema 4D r10.1 - At last the 10.1 release of Cinema 4D.
r10.0 has not been a good experience - editing materials out of Allplan exports causes crashes every few minutes. Hopefully the .1 release will fix this but C4D for me has lost something.

Nemetschek + Graphisoft - A neatly sprung surprise was the announcement of Nemetschek's intention to acquire a controlling share of Graphisoft, the Hungarian developers of Archicad.
Implications are being mulled over by mainly Archicad and Vectorworks users.
Allplan users don't seem hugely interested so far.

C4D Advent Calendars - It is that time of year again when the kind people at C4D-treff.de and FrenchCinema4D.com post their online 'Advent Calendars' with a new gift each day.


Note that the Frenchcinema4D.com advent calendar works best with the Firefox browser


Many thanks to all concerned :-)

Cinema 4D r10 - It has been slow to see the advantages of r10 (why do they not do a 'What's new'?) - it feels like Cinema 4D has been completely rewritten. The new Layer system is very powerful but has some anomalies in the way it interacts with objects and materials.

Perhaps the best new feature from an architectural visualisation angle is the Enhanced OpenGL available to better graphics cards in the viewports. You need to turn this on in each Viewport via the Display menu, but the result is very smooth lighting and some shadows in real time (only hard shadows are visible like this). Very nice ;-)

Allplan 2006.1_5 - Nemetschek have posted service release 5 in the Service->Downloads area of all their websites. The service releases are cumulative - installing SR 5 includes all the earlier updates as well.

Cinema 4D r10 - Yes, it's upgrade time again. There is a demo of C4D r10 downloadable from the Maxon site (160Mb). The biggest obvious change is in the appearance of the interface. Not to everyone's taste (including mine) but Janine Pauke has probably started something by kindly posting her revised icons here on cgsocietyforum. If you liked the old icons then there is a 'Classic' scheme as an option.
Strangely enough from an architectural rendering point of view this is probably one of the least interesting upgrades for years - most work seems to have gone into figure animation - but it sounds as though Help might now be context sensitive, and that would be worth the upgrade on its own ;-)

Allplan 2006.1 arrives - Yes, you wait for months and then everything happens in a few days ;-)
All I can say is that it looks to have been worth waiting for - a clean installation of the upgrade with some new options for installing alongside Allplan 2005 if you wish. Some nice new obvious improvements and some more subtle changes.

The Track Tracing feature which is perhaps a bit like 'Advanced Point Entry meets Sketchup-type inference locking' is the first improvement you notice.

Some very welcome improvements in the Layout Editor and the way Filesets come in. No doubt more things will catch the eye over the coming weeks.
Interesting as well to see the new Softlock security device which looks set to replace the old hardware dongles eventually.

Allplan 2006 - I am assured by the UK distributor Cadserve that the CDs of 2006.1 are being mailed out in batches over the next few days. There is an update 2006.1_1 already available on the Nemetschek sites (Service->Download)

Holidays 2006 - I have made very few updates to this site this year and so no-one will notice that the family and I are going on holiday for a couple of weeks to Austria to do some walking (if not too hot ;-) around Mayrhofen and then Saalbach.
'Roaming' data charges are very high in Europe and so I will have to keep in touch via my P910i mobile phone for email rather than my Sony Vaio SVP1 with datacard - pity, it's a great laptop for travelling...

Allplan 2006 - No word on a release date yet for the international version - although it must be imminent.

Cinema 4D r9.6 - NMaxon have posted a free update to 9.5 as r9.603. It is a 98.5 Mb download and includes an Updater pdf which is installed in
X:\Program Files\MAXON\CINEMA 4D R9

Allplan 2006 - The trouble with using the '2005', '2006' naming convention is that you expect the version to be available in that year or before. Presumably we will see the 2006 International versions sometime this year.

Allplan 2005.1_5 - Nemetschek have posted an update to Allplan 2005.
Download from usual Nemetschek sites - Downloads link on left of screen.

Allplan 2006 - Nemetschek Italia has posted videos of new features in Allplan 2006 ;-)

Allplan 2006 - A draft version of the 'What's new in v2006' has been posted on the Allplanforum - changes are possible before likely final release in April.

Acrobat 3D - I recently upgraded to Acrobat 3D from v7 (how do Adobe get away with charging so much more for this in Europe compared to the US?.. even for the download version).
As with most software, version 1 has a few rough edges but it has great potential.
Allplan is the only application I have tried so far where the 'OpenGL grab' from a screen display works - Cinema 4D and Sketchup 3D and Vectorworks cannot manage this for some reason (I made sure OpenGL was turned on in all applications)

Allplan 2005.1_4 - Nemetschek have posted an update today. Download from usual Nemetschek sites - Downloads link on left of screen.

Allplan compatible graphics cards - I notice the FAQ on graphics cards has been updated and some are marked 'retired'

Wacom Cintiq 21ux - I like this tablet/screen so much I bought a second one - now I can use the same Intuos 3 pen on both tablets. They are a bit too heavy to have on your lap I would say - which is probably why Wacom still make a 17" version that is very similar to the discontinued 18sx model.
Nemetschek used to sell these along with Plandesign software as the D-Board. Allplan Sketch is I think very similar (the same?) to Plandesign - a nice, stylish bit of software but I could never understand how to get Allplan drawings to import correctly. Pen tools work great on a Wacom Cintiq ;-)


Allplan 2006 - I see that the 'What's new... ' for Allplan 2006 is posted in the library section of the Service Portal on Nemetschek.de (in German of course). If you are registered on the site (and anyone with a valid licence of Allplan is entitled to register - see Allplan Forum guide to registering) it is interesting to browse through. My German is not up to an accurate translation but one illustration definitely shows freeform plot windows.

Nemetschek UK visit - nice to see 2006 start on a positive note...
Clive Flynn of Nemetschek UK and Sarah from distributor Cadserve very kindly called in for a chat today. Clive mentioned that Allplan 2006 will be released soon.
No date yet for the 'What's new...' pdf that normally gets released first.

Nemetschek.de website - Clive pointed out something I had missed - the Nemetschek.de website has been revamped. Very nice it is too.
More streamlined and you can log in on the front page.
I do admire the Flash movies they do at Nemetschek - always very slick ;-)

2006 - Happy New Year to all !



New Year resolutions for 2006?


- Well, still trying to find time to improve my German (especially now that my daughter has started learning it at school ;-)
- Also my training day at Maxon UK has shown me how much more I could be doing with Cinema 4D...
- An update to this site is long overdue...



things to look forward to in 2006?


- Nemetschek UK are coming to visit me later this month and there is talk of Allplan 2006 being available early in 2006

Cinema 4D r9.521 - between the excellent 3DFluff DVD mentioned below and a very enjoyable training day at Maxon UK this has been a very productive week in improving my Cinema 4D skills.
It really is a very enjoyable package to use and the user community is oustanding in it's enthusiasm and support. It reinforces my view that the best software is cross-platform... Mac and PC ;-)

3DFluff vol 4 - just what I needed for Christmas - vol 4 of the wonderful 3DFluff training dvds for Cinema 4D.
This one concentrates on the Advanced Lighting and Rendering features of release 9.5 and as in previous dvds brings clarity and understanding - with style - to the subjects. For architects and building designers using C4D for rendering I would have thought this is a must have purchase.

Cinema 4D - c4d-treff.de have kindly posted their annual advent calendar of gifts behind the daily doors...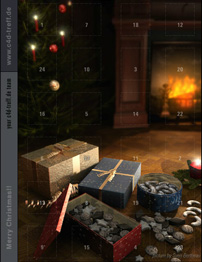 and frenchcinema4d.com have done something similar too :-)

Cinema 4D -

another seasonal treat (for me anyway ;-) is a training day down at Maxon UK just before Christmas... excellent value for money and always very enjoyable.



Cinema 4D - Maxon have posted release 9.521 as a free upgrade to r 9.5 here

Allplan 2005.1 sr 3- Nemetschek have posted Service Release 3 for Allplan 2005.1 in the Service->Download area in the panel on the left of the screen.

Allplan Manuals - Nemetschek UK keep up their good work with more posts of English language manuals to their website

Allplan UK - on 1st November UK support for Allplan quietly changed with Cadserve apparently taking over from CAD Ltd - the Allplan advert in the latest AEC Magazine carries both Nemetschek and Cadserve names. Users will get a letter from Nemetschek about the change I am told and presumably we will learn more then.
FWIW I will miss CAD Ltd - they did a good job in my experience.

Cinema 4D r9.5 - Beats me how the programmers at Maxon keep coming up with great new features and enhancements which make you wonder how you managed without them ;-)

C4D 4 r9.5 arrived yesterday along with Bodypaint 3D r2.5 - first new features which caught my eye were the Sky Manager and the Content Browser - self explanatory really.
They still don't explain how to set up North in relation to your building model ... I think it's the Z axis - so after importing from Allplan some rotation is probably necessary - I always keep the sun light set up in Allplan as a handy check on where the sun should be once in C4D).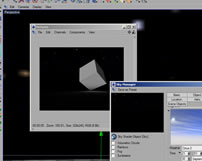 In fact there is no guidance at all in the Upgrade package as to how to install or even where the Addendum Help file is located (it's in Program Files/Maxon ...)
Included is a video tutorial in Quicktime 6 .mov format... but they don't include Quicktime on the CD... maybe it avoids paying a royalty if you download it from Apple yourself.
Incidentally, this version of C4D only supports Quicktime 6

There is brief mention in the Addendum manual about a new small file format for Export to Allplan....

C4D r9.5 3DFluff - great to hear that 3D Fluff are working on a DVD tutorial for r9.5 - also that there is now a Forum on their site (like everything J&M do it looks very smart ;-)

Allplan FAQs - Nemetschek are now updating the English language sites nemetschek.uk and .com much more frequently. Along with the posting of Handbooks and Guides to Allplan, the FAQs are now being updated and in fact the whole site now has lots of interesting facts and figures previously only available on the German site.

Maxon C4D - I see that Maxon have streamlined their websites, so that maxon.net (I bet how they wish they could have had maxon.com... but unfortunately it is not available ;-) takes you straight to the English language pages with link options to the German and Japanese sites.
It's a small thing but meaningful. There are now sub-sections for the different uses Cinema 4D is put to, including a neat section on Architecture. The whole site is a bit more coherent (although the plug-ins area has been moved to a different site for some reason).

Site updates /annual review - This seems to be the time of year I update the site - sorry there has been so little happening here... a site revamp is long overdue but I want to concentrate on updating the information rather than bothering too much about the look and coding of the site just at present. In particular I want to update the Cinema 4D pages.



Allplan in the UK

- I have so few problems with Allplan that I seldom get a chance to speak to Allplan technical support these days and thus find out what is going on in the rest of the UK. The recent article in AEC magazine (referred to below) about Nemetschek products was interesting in that it showed that Nemetschek have strengthened their UK presence and the posting of the Step by Step guides and more regular updating of the Nemetschek UK website are both very positive steps.

Allplan 2005 - The review mentioned below is now online here
Indeed, there seems to be more coverage of Nemetschek products in the latest AEC Magazine. More resources seem to be aimed at the UK market. Of particular importance is the posting of English language Step by Step guides on the Nemetschek UK website (note Internet Explorer only).
These guides are 'must have' downloads for new users and are now all updated for Allplan 2005.

Cinema 4D - An excellent online tutorial site (in German) here
Maxon have pre-announced v9.5 which will ship in September.

Allplan 2005 - I see that there is a review of Allplan 2005 in AEC Magazine today. The review is fair enough given the Autodesk bias of the whole publication.
It is useful reading reviews as new features are often highlighted which existing users might miss, as you do tend to get into a bit of a 'rut' in workflow.

There are pdfs of the magazine put up on the publishers site for download, but the latest issue will not be posted for a while yet. I will post a link when it appears - or you can contact the publishers for your own copy of the magazine here.
Personally FWIW I still think Allplan is the best all-round 3D and 2D AEC cad package available on the market. I do look at alternatives from time to time but for the flexibility I need for mixing 3D, 2D and bitmaps I am still more than happy with the Allplan and Cinema 4D combination.

3D Fluff for Cinema 4D- I have just bought the 2nd of the 3 training dvds from 3D Fluff - this is probably the most immediately useful one for architectural work and covers Radiosity Rendering.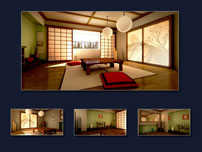 << Click for link to 3D Fluff.com page


The information is extremely well presented and the step by step videos are packed with valuable information on settings and whys and wherefores of the myriad options in lighting, rendering and materials. Plus just seeing how the authors (Janine Pauke and 'Mash' O'Neill) use C4D gives many tips on workflow.
Highly recommended :-)

Allplan 2005 - I have been running v2005 of Allplan for a few weeks now with no real problems. Lots of nice new enhancements. I particularly like the Smart Window Sill tool for adding window and door sills both inside and out - a big time saver and very flexible.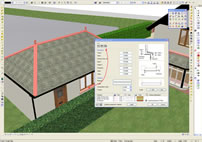 << Click for link to page with larger version (212 kB)



Beyond that, overall first impressions are very good.
Some unexpected enhancements - the dimensions module is a surprising candidate for a makeover, but welcome nonetheless.
Probably one of the most useful new tools is the Profile Wall tool which allows wall cross-section to be based on a 2D outline - or even unconnected outlines.
Quite a bit of work has been done in the exchange of data with Cinema 4D - there is an export out of v9.1 of C4D that allows complex objects to be brought into Allplan - but not with their materials or lighting - it has the feel of a 'work in progress' and possibly much has changed beneath the surface, so maybe more of a real 2-way 'round-trip' will become possible in later releases.
Going from Allplan 2005 to C4D v9.1 is rather better, although bits of 3D solids still disappear occasionally - usually vertical elements for some reason.
DWG import/export seems trouble free now - may be my imagination as it was not that bad before.
The new icons are very nice and maybe easier to understand as well as easier on the eye.
Overall, a solid set of improvements with a few gems, and there are probably lots of little things still to discover :-)

Wacom Cintiq 21ux - The new Cintiq is superb - totally flat and with a near paper feel to the surface. It has allowed me to regain 1.2 metres of office space that used to be occupied by a monitor.
The Cintiq 21ux uses Intuos 3 standard pens and so allows you to control 2 monitors by just moving the pen from the Cintiq on to a regular Intuos 3 tablet - it automatically divides itself between the 2 monitors.
Very comfortable to use with Allplan or Photoshop for hours at a time :-)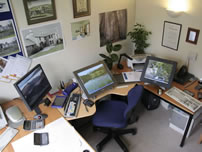 << Click for link to page with larger version



Wacom Cintiq 21ux - I have just placed my order for the new Wacom Cintiq tablet (at Chaudigital.com) - having used the 18sx (alias the 'D-Board' from Nemetschek) for a few months I would not want to draw on anything else now :-)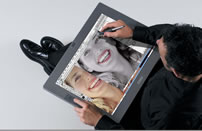 << Click for larger version (241Kb)


There is a nice Flash movie showing the 21ux at Wacom Europe

Essentially the improvements to the 21ux over the 18sx are the Intuos 3 hardware plus a bigger screen. Smooth surface - no bevels - Wacom say architects and designers can use 'French curves', templates and protractors on the smooth surface (!)
Apparently already sold-out in the US immediately after launch - at least 3 week delivery at the moment in the UK

What's new in Allplan 2005 - The Nemetschek webmaster has kindly posted the English edition of the '

What's new guide.

.'
Download from Nemetschek.co.uk and Nemetschek.com
find under '

Products->Design

' - link is on the right side of the page.

How to Acess the Serviceplus Portal - If you have thought about registering for the Serviceplus Portal available to all Allplan users with a current licence, at Nemetschek Deutschland but not been sure of the German instructions, the Nemetschek Webmaster has kindly posted some English help at the French Forum on the Allplanforum site, and I have copied this into the International English forum.
It is a wonderful resource - models and textures for both Allplan and Cinema 4D posted by other users.

Cinema 4D r 9.1 - Maxon have released an updater for v9 of Cinema 4D as a free download.
50 enhancements the publicity says - but of particular note is that for the first time I can remember Allplan is mentioned directly in the English publicity.
The C4D plug-in link to Allplan 2005 allows geometry from Cinema 4D to be brought into Allplan for the first time.
It all looks great - get it from Maxon.net and click on '

Downloads

' at the top of the screen and then '

Updates

'

Allplan v2004.0b5 - Service Release 5 for Allplan v2004 has been posted by Nemetschek (go to Service->Downloads)

Allplan on Pocket PC? - The wonderful Skeyepad that came with my Lazercad package is proving a very versatile device.
It's latest trick is to use Remote Active Desktop to run any PC application such as Allplan remotely. This is very easy to set up with Windows XP. I had heard of Mac users running PC software this way but I hadn't thought of the possibilities for Pocket PCs etc.
Allplan works really well on the Skeyepad - although I am not sure if you would want to do it regularly. It is certainly a way that Mac users could run Allplan.
You need a WiFi card or network card for the Skeyepad but otherwise it is all very simple to run see the Skeyepad forums via the link above for WiFi cards).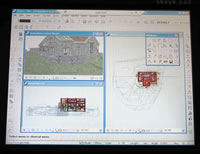 <

c

lick image to enlarge



Happy New Year - Best Wishes to All for 2005

New Year resolutions?
- improve my German language skills (machine translators and a wife who speaks good German makes me very lazy :-)
- do some more Cinema 4D training (excellent value at Maxon Uk)
- do more 3D modelling and less 2D drawing...
...that's enough to be going on with ;-)



---


For Archives of February to June 2001
For Archives of July to September 2001
For Archives of October to December 2001
For Archives of January to April 2002
For Archives of May to September 2002
For Archives of October to December 2002
For Archives of January to March 2003
For Archives of April to June 2003
For Archives of July to Dec 2003
For Archives of Jan to Dec 2004
Home ¦ Park Issues ¦ Services ¦ Local Links ¦ Technical Section
Allplan FT Users Page 1